Yeah, yeah, it's still a cover sort of, but YYZ has no lyrics so it's not like it's a completely different song. Besides, the fact that a SEVEN year old is doing a drum cover of one of the hardest songs to drum is just insane. Avery has a whole bunch of other songs he's done as well, including Judas Priest's "Painkiller", Avenged Sevenfold's "Beast and the Harlot" and Metallica's "Master of Puppets".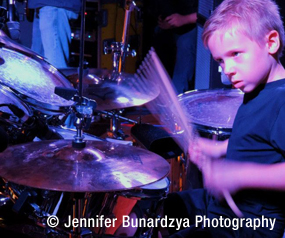 "At the Hard Rock", AGE 5!!!!
YYZ is a pretty crazy song anyway, and for those who don't know what it is (or who Rush even is, shame on you!), the video is worth checking out just for the song. For the rest of humanity, again, seriously - 7 years old! NOT Rock Band drums, REAL drums!
Make sure you check out the rest of his Youtube channel, as well as the webpage (
http://www.averydrummer.com
)